like to think of themselves as retirees who are
relaxing after years of hard labor and ranting. They have, in their
joint persona of T_P decided that it is not fair to their countless
fans and readers to deprive them of the wisdom they can dispense.
Yes, Virginia, we have a sense of the absurd. We also think that
age is not a big deal; Pollyanna at over 100 and Titan at 4.5
billion hold out hope for all of us to say nothing of Biblical
figures.
They will try to alleviate the effects of climate change
through which we are all laboring. If you can find a denier, try to
keep him/her away from air conditioning--they are not worthy of it.
T_P have noted that things have not become better since they
retired from active ranting. They have decided, therefore, that
they will come back to a schedule, with Pollyanna at midmonth and
Titan at the end of the month. Their recent move with their
amanuenses YandA
to a place full of retired people has renewed
their energy and desire to bug people. As usual, Titan will rant
mightily while Pollyanna will try to be glad, but will allow
herself rants about women and girls or blatant human rights
violations while mostly trying to be glad and positive. As usual, Murphy will provide companionship, humor and legal advice.
DEATH SENTENCE OF MARY JANE VELOSO.
This Philippine national who was a domestic worker in Indonesia is under a death sentence. Veloso was arrested in Yogyakarta, Indonesia, in 2010 while carrying a suitcase containing 2.2kg of heroin. Her supporters say poverty made her susceptible to people traffickers, who promised her a job as a maid in Malaysia but instead made her an unwitting drug mule. It is believed in general that she was duped into carrying the drugs. Her execution was stopped in April 2015 with a temporary reprieve hours before she was due to be killed.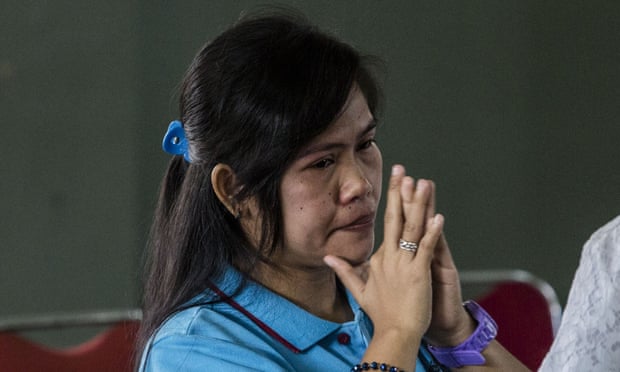 Mary Jane Veloso was sentenced to death in Indonesia for drugs trafficking. Photograph: Ulet Ifansasti/Getty Images
Her reprieve came after Maria Kristina Sergio, a woman accused of recruiting Veloso, handed herself in to police in Manila. The former Philippine president, Benigno Aquino, made an appeal to Jokowi on the basis that Veloso would be needed as a witness in the case against Sergio.
Pollyanna agrees that drug lords should face prison terms, but is certainly against capital punishment and killing unwitting dupes who are victims of the drug empires.
HAPPY BIRTHDAY
Erik Satie 1866-1925
T
his year we note the 150th anniversary of the birth of an interesting and often underrated
French composer. He was scorned by the musical establishment, but has in recent decades enjoyed a revival of interest and appreciation. A complete CD recording of his solo piano music has
been published in honor of the anniversary. We refer you to the KUSC site:
Erik Satie: The Complete Solo Piano Music Jean-Yves Thibaudet, piano
A fixture in the avant-garde in Paris at the turn of the 20th-century, Satie was an important influence on such diverse figures as Stravinsky, Debussy,and Philip Glass. This new compilation includes 5 CDs of solo piano music performed by acclaimed French pianist Jean-Yves Thibaudet and a bonus CD of four-handed piano music with Jean-Philippe Collard and Pascal Roge. Magnifique!
His short piece Vexation, designed to be repeated 840 times had its world premier 70 years after its composition, on 9 September 1963 before a gathering of off-Broadway actors and artists at the Pocket theater in Manhattan. It took John Cage and his relay team of pianists, including John Cale who would later co-found the Velvet Underground, 18 hours and 40 minutes to perform the musical marathon from start to finish, playing continuously from 6pm until lunchtime the following day. Patience was rewarded: those who attended were refunded five cents of their $5 dollar ticket for every 20 minutes they stayed, with a bonus for anyone who crossed the finish line. Only one man did; another, as it finished, called out "encore". Pollyanna is properly impressed.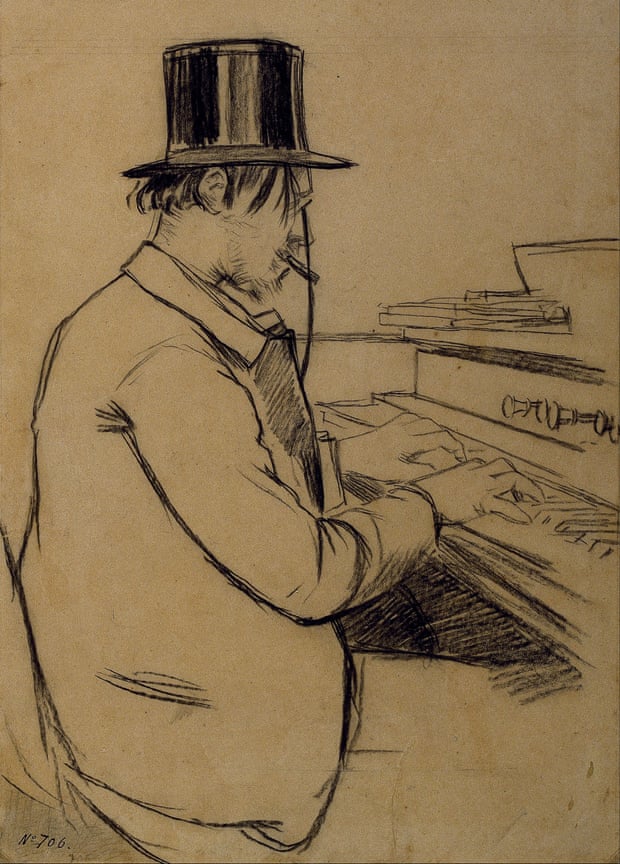 Portrait of Erik Satie playing the harmonium by Santiago Rusiñol. Photograph: Heritage Images/Getty Images
IN MEMORIAM
Hieronymus Bosch 1450-1516
This year marks the 500th
anniversary of the death of Jheronimus van Aken, the Flemish master
who signed his works as Jheronimus Bosch. His imagination ranged
from a place beyond the spheres of Heaven to the uttermost depths
of Hell, but for many of his earliest admirers the most striking
aspect of his art was what they described as its "truth to nature."
The round anniversary has generated two major exhibitions and a
spate of books. The New York Review of Books provides an interesting
article to those who can reach it.
The exhibitions and books
include:
Hieronymus Bosch: Visions of Genius

an exhibition at Noordbrabants
Museum, 's-Hertogenbosch, the Netherlands, February 13–May 8, 2016
Catalog of the exhibition by Matthijs Ilsink and Jos Koldeweij
Brussels: Mercatorfonds, 191 pp., $35.00 (paper) (distributed by
Yale University Press)
Bosch: The Fifth Centenary Exhibition an exhibition at the Museo
Nacional del Prado, Madrid, May 31–September 11, 2016 Catalog of
the exhibition edited by Pilar Silva Maroto Madrid: Museo Nacional
del Prado, 397 pp., €33.25 (paper)
Hieronymus Bosch: Visions and Nightmares

by Nils Büttner
Reaktion, 208 pp., $22.50
Jheronimus Bosch: The Road to Heaven and Hell

by Gary Schwartz
Overlook Duckworth, 254 pp., $70.00
Hieronymus Bosch, Painter and Draughtsman: Catalogue Raisonné

by
the Bosch Research and Conservation Project Brussels:
Mercatorfonds, 607 pp., $150.00 (distributed by Yale University
Press)
Hieronymus Bosch: Garden of Earthly Delights

by Hans Belting
Prestel, 125 pp., $14.95 (paper)
The highlights mark links to reviews.
The Garden of Earthly Delights
RANTS OF THE DAY
The world refugee crisis continues to fester. Amnesty International has issued a call for people action. Right now, record numbers of people worldwide have beenforced to flee their homes. But instead of showing true leadership and protecting refugees, most countries are slamming their doors shut.
The world's wealthiest nations are leaving a handful of countries to cope alone with nearly all the world's 21 million refugees. Powerful media and politicians are manipulating reality and dehumanizing them, portraying refugees as "illegal", or faceless "invaders" who are "a security threat". They are evading their responsibility to protect people fleeing violence, persecution and conflict. And every single day that goes by, their indecision and inaction are causing immense human
suffering.
William, 11, is a refugee living in a camp in northern Kenya. "I was born here in Kakuma, but I know we had a lot in Sudan. We had three houses: one for cattle, a shed and one that we lived in." © Amnesty International (Photo: Richard Burton)
SCIENCE GOODIES
Pollyanna is very excited about the apparent
discovery of an Earth-like planet just around the corner at Proxima
Centauri, 4.2 light years away. European Southern Observatory (ESO)
officials have finally confirmed that they have discovered a new
exoplanet candidate named Proxima b inside the habitable zone of
Proxima Centauri - a red dwarf star in our closest

neighboring
star system, Alpha Centauri. While the experience of other recent
"discoveries" that were later debunked (Big Bang echoes for
example) should be kept in mind, this finding appears quite solid.
Nonetheless, as put so well by the late Carl Sagan, "Extraordinary cl
aims require extraordinary evidence" and David Hume wrote in
1748: "A wise man ... proportions his belief to the evidence", and
"No testimony is sufficient to establish a miracle, unless the
testimony be of such a kind, that its falsehood would be more
miraculous than the fact which it endeavors to establish." In the
case of Proxima b a group of researchers launched a campaign to
ferret out the planet. They called this effort the Pale Red Dot — a
nod to Carl Sagan's famous description of Earth as a "pale blue
dot," and the fact that Proxima Centauri is a small, d
im star known
as a red dwarf. The results are most convincing.
CLIMATE CHANGE EXPLAINED
Here us a link to a timeline of the variation of Earth's temperature. Thank you Munro.

This might be useful depending on the degree of idiocy of the denier you are foolhardy enough to engage in a discussion. As Andy Borowitz pointed out the in New Yorker (June 23, 2015) "Many Americans are tired of explaining things to idiots, particularly when the things in question are so painfully obvious, a new poll indicates...Of the many obvious things that people are sick and tired of trying to get through the skulls of stupid people, the fact that climate change will cause catastrophic habitat destruction and devastating extinctions tops the list, with a majority saying that they will no longer bother trying to explain this to cretins."
On the subject of climate change, Pollyanna is disgusted with the pussyfooting and hypocrisy of scientific organizations refusing to stand up to polluting corporations. In particular, as members of the American Geophysical Union, we signed the petition calling for the AGU to drop support from Exxon. The AGU board just received the petition with 50,000 signatures and we hope it will show courage and integrity.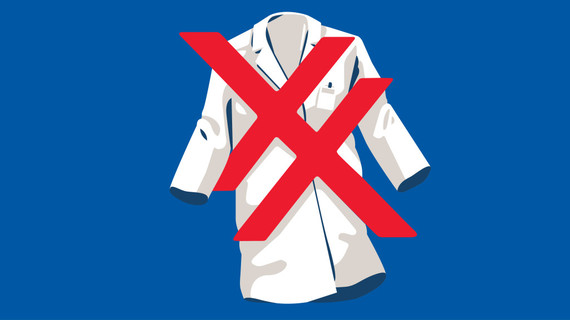 Image Credit: The Natural History Museum
SILLY TIME
Here is a What If from the archive
Is there any way to fire a gun so that the bullet flies through the air and can then be safely caught by hand? e.g. shooter is at sea level and catcher isup a mountain at the extreme range of the gun.
THE JOYS OF STEP FAMILIES
Our leaders have a wonderful grip on reality