Fresco restored to Herodian palace at Masada
Pollyanna would like to provide some relief from the dour picture brother Titan unloaded on you last week. To his credit, he did have a few positive things to report. Pollyanna also has a few nice things to tell you. First, she is delighted to show you one of the
frescoes restored
to the palace of King Herod (37-4 BCE) in Masada. She salutes the team headed by Italian expert renovator Prof. Maurizio Tagliapietra of the University of Verona and including employees of the Israel Parks and Nature Authority. Cheers! Later she will also have some things to be upset about.
For starters, let us refer you to the
Miriam Shlesinger Human Rights action blog
. Over a year has gone by without Miriam, and we continue to realize what we have lost. She got us into the human rights struggle. Please act on behalf of people who are so much in need of support in their trials and tribulations at the hands of oppressive regimes and corporations.
CHARITY CORNER
Last week we saw a beautiful documentary film about Louis Sarno, the musicologist who lives among his Bayaka friends and family in the Central African Republic.
He spends much of his time and energy supporting the Bayaka in various ways, most significantly by distributing medication and food to those in need. But the current civic war in the CAR means that tourism – the most important source of income for Louis in recent years – has more or less stopped. Through
"Global Voice"
you can help Louis and the Bayaka of Yandoumbé to survive even in these difficult times. If the link works for you, you can donate via PayPal. If not, as happened to Pollyanna, send a check to Global Voice Foundation 133 East De La Guerra Street #160 Santa Barbara CA 93101 USA Here is a trailer of the film.
WELCOME POPE FRANCIS
It would better be to lower expectations ahead of next week's Mideast visit by Pope Francis.
Photo by AFP
Pollyanna is delighted to
welcome Pope Francis I
on the occasion of his visit to Israel. She hopes that the visit will go off well and that no major hate crimes by Orthodox Jews sully the occasion. She agrees that the
visit is primarily religious
and no one should expect any great political or diplomatic effects. Already the
anti-Christian graffiti
have appeared, but let us hope that nothing worse happens.
Graffiti on the wall of a Be'er Sheva church.
Quote:"Jesus is an SOB."
Photo by Israel Police
Cheers to the Pontiff and enjoy your visit.
WEB SITE FOR WOMEN'S RIGHTS
Pollyanna would like to call your attention to a
Web site launched early this year
as a cooperative effort of AWID, Mama Cash and the Guardian newspaper. The founders regard this collaboration as an opportunity to achieve these goals:
bring a rights based analysis to a broad and powerful audience
increase the visibility of women's rights organizing and make the case for more and better resources for women's rights advocates, organizations and movements
influence key global policy processes and debates related to the post-2015 agenda
raise the visibility of women human rights defenders at risk
support more diverse voices to frame debates and set priorities about women's, girls and trans* people's rights and the changes that are needed at global, regional and national levels
Pollyanna recommends that you all take a look at the site as well as at the links to
AWID
and
Mama Cash
, a major funder for women's rights activity.
Also, last week Titan promoted the initiative of a group of Israeli women to take Palestinian children to the sea. Although they live not far from the Mediterranean, most Palestinian children have never seen it. This project has taken wing and expanded. Please help take a kid to the beach.
Pollyanna joins the call.
THE RANT
This week's rant is about the
tragic coal mine accident
in Turkey that claimed over 300 lives.
It could have been prevented
and serves as a reminder that privatization of an industry can lead to a lack of regulation and relaxing of safety standards. The BP massive oil leak catastrophe in the Gulf of Mexico four years ago was,
as stated explicitly
by President Obama, a result of the cozy relationship between corporations and regulators. The
privatization of British Rail
in the 1990's led to an increase in accidents and the eventual
renationalization of the main rail operating entity
. The disastrous chemical spill in West Virginia is certainly related to the cutbacks in environmental control and supervision of the coal and chemical industries, as noted
in the New Yorker
. This quote tells it all:
"The state has become a standard-bearer for pro-business, limited-government conservatism. The day before the chemical spill, the governor, Earl Ray Tomblin, delivered his State of the State address, criticizing federal environmental regulators and vowing, "I will never back down from the E.P.A., because of its misguided policies on coal." Tomblin, a conservative Democrat elected in 2011, cut corporate taxes and denounced the federal government for overstepping its authority. To balance the budget, he tapped other government funds and called for broad cuts, including reducing agency spending by seventy million dollars. For the second consecutive year, West Virginia's Department of Environmental Protection would take a 7.5-per-cent cut in state funds, dropping to its lowest level since 2008."
To Pollyanna, it is clear that the rush for short term profits and the corruption entailed by the government-industry cohabitation leads to an inevitable devaluation of human life and basic rights. The public needs to be more aware and to stand up to the bad guys.
BTW, Pollyanna notes that protesters were abused when PM Erdogan visited the disaster site at Soma.
Yusuf Yerkel, left, adviser to Turkey's Prime Minister Tayyip Erdogan, kicking a protestor as Special Forces police officers detain him during a protest against Erdogan's visit to Soma, May 14, 2014.
Photo by Reuters
It is also typical that the a newspaper supportive of Erdogan
blames the Turkish mine disaster on Jews.
FIRE, ROCKETS AND CHILDREN
Last March a
science fair of sorts
was held in Tel Aviv. It was designed to tout the achievements of the hi-tech industry and of course to expose children to rockets and
weapon systems in the style of North Korea. It might have been more appropriate to focus on medical research or even astronomy, but in militaristic Israel, this is what you get.
The Israel Science Day at Rabin Square, Tel Aviv. March 26, 2014.
Photo by Daniel Bar On
In one of the exhibits, set up to demonstrate rocket launching, an accident took place, three children were burned and there was no ambulance on hand. The children were burned badly and the mother asks about accountability for the lack of safety precautions at the site. As Haaretz wrote at the time,
"Israel may have incredible technological accomplishments in weapons and defense systems. But when it comes to taking care of its own people, this country is as incompetent as an ambulance driver with a burned child."
Her op-ed piece in Haaretz was unfortunately not translated. Pollyanna wonders why.
MACCABI TEL AVIV, EUROLEAGUE CHAMPIONS
Israel's Maccabi Electra Tel Aviv basketball team defeated Real Madrid 98-86, in overtime, and
won the Euroleague championship
in Milan on Sunday evening. This is the club's sixth European championship title. Thousands turned out at Rabin Square to cheer the champions. Pollyanna watched the game and is glad to extend her congratulations.
BOOK REVIEW
We have long been admirers of the literary work of John Updike.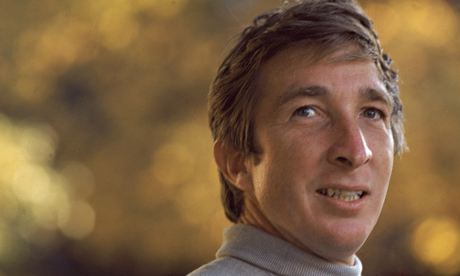 A priapic male gaze? John Updike in the mid-1960s. Photograph: Susan Wood/Getty Images
Pollyanna, therefore, welcomes the new biography of Updike which provides much insight into the life and work of the writer. The book by Adam Begley is reviewed in the
Guardian/Observer
. It is well worth your attention
GOODIES FROM SCIENCE
BLACK HOLES AND THE EVENT HORIZON
The concept of a black hole as a one way road to oblivion has been called into question by no less than Stephen Hawking. Much attention is now being paid to the question of what happens at the so-called event horizon. Imagine a poor astronaut arriving there.
Astronomers know that virtually every galaxy harbors a giant black hole at its center, shaping the formation of millions of stars and even neighboring galaxies with its immense gravitational influence. Galaxies also contain millions of small- and medium-sized black holes, each with an event horizon past which light is never seen again. The idea that if a black hole evaporates eventually all the information that has gone into is lost is in conflict with quantum mechanics. What is happening?
Read on to see details of this mystery.
Pollyanna thinks it is cool that physics is facing one crisis after another. As the great Neils Bohr said:
"How wonderful that we have met with a paradox. Now we have some hope of making progress."
ON CANCER THERAPY
In her March 14 blog this year Pollyanna expressed her delight and hopes for new cancer therapies based on harnessing the human immune system. This week
she wants to tout an alternative approach
, a silver bullet particle irradiation therapy evolving out of research at the Large Hadron Collider where scientists are developing a new and more effective alternative to radiotherapy which treats tumors with high-powered beams of positively charged particles at a greater accuracy than current radiotherapy techniques. Proton beam therapy enables doctors to target precisely tumors with a focused beam of protons, leaving the nearby tissue undamaged which minimizes the risk of unpleasant side effects. We underwent gamma ray therapy in 2002 for prostate cancer which in turn, because of poor focusing, led to a bout of bladder cancer in 2008. Pollyanna and her family wish all success to all who toil in the vineyard of medical research and the improvement of means of healing.
THE ICY SAINTS
The Ice Saints is a name given to St. Mamertus, St. Pancras, and St. Servatius in much European folklore. They are so named because their feast days fall on the days of May 11, May 12, and May 13 respectively which ,
as discussed in the Guardian,
are supposed to be days of cold snaps in May.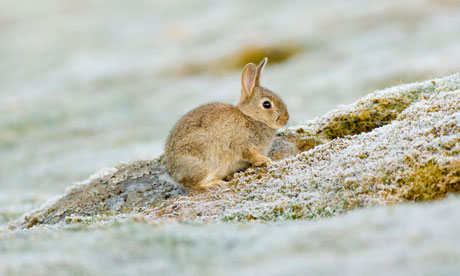 It can get cold in May as this young Scottish rabbit discovered one frosty morning in 2009. Photograph: Duncan Shaw/Alamy
In the early 20th century, statisticians claimed to have debunked this as myth, but the so-called blackthorn winter belief persists and gardeners in many countries wait with spring planting until the cold saints have passed. While this indeed may be folklore,
a climatological study carried out in the 1960's
, using a century of meteorological data, produced phenomena that showed preference for particular calendar days such as the breakdown of the stratospheric night polar vortex and intrusions of cold air in springtime into Europe.
SILLY TIME
What if?
asks:
What if you were to somehow ignite the pollen that floats around in the air in spring? Other than being a really bad idea, what effect would it have?
Jessica Thornburg
The answer is not reassuring to people with hay fever, but otherwise it would not raise the temperature much unless you decided to concentrate it.
Finally the truth about the horny head boss:
As mosquito season moves in, we swear by our blue light zapper. Fortunately, none of us hear well:
In Israel the Army is again demanding more money to pay its inflated salaries and buy more useless toys: