Pollyanna hopes that all her US readers are having a happy Thanksgiving holiday and would like to share a lovely image with all. It is a study of interactions on two very different levels: at one level,
these gigantic galaxies
are interacting through collisions over immense distances (in both time and space); on another level, the image represents the interaction between NASA's Great Observatories (Chandra, Hubble, and Spitzer), which have joined forces to bring us this amazing view.
As usual, we link you to our
Miriam Shlesinger Human Rights Action blog
. Please take a minute to act on behalf of people whose rights are being infringed.
Before getting into the fun stuff, Pollyanna would like to sound off about a few feminist issues. One is the
good news that the blasphemy charges
against a young, possibly retarded, Christian girl in Pakistan have been thrown out of court. Her accusers are facing a perjury indictment. We cheer the judiciary and hope that the girl and her family can return to a normal life.
Rimsha was taken to a secret location after being released on bail
The other is the sexist side of the sordid soap opera being played out in real life in the US security and intelligence establishment. All too often the system manages to blame the women involved for everything. We refer you to a transcript of a
good feminist rant on this subject
by Robin Morgan that was broadcast on the
Women's Media Center
show.
On the local scene, Pollyanna adds
her own rant about religious freedom for women in Israel.
Again we have arrests for the wearing of a talit (prayer shawl) in Jerusalem.
One of the Women of the Wall being arrested in Jerusalem.
Photo by Emil Salman
International Day for the Elimination
of Violence against Women

25 November
We quote:
Violence against women and girls takes many forms and is widespread throughout the globe. […] On this International Day, I urge governments and partners around the world to harness the energy, ideas and leadership of young people to help us to end this pandemic of violence. Only then will we have a more just, peaceful and equitable world."
Secretary-General Ban Ki-moon
Message
for the International Day for the
Elimination of V
i
olence against Women
25 November 2011
"Any girl can be glamorous," Hedy Lamarr once said. "All she has to do is stand still and look stupid."
Most of our readers are too young to remember the famous film star of the 1930's and 1940's Hedy Lamarr. Although she was an Old Hollywood sex symbol, she most definitely had a brain. It's a fact that may be nearly as overlooked as her wartime creation: a
landmark technology
that was a precursor to Bluetooth.
It's not surprising that she's known best for her sultry persona, given her film role that made everyone sit up and take notice. In 1933's "Ecstasy," a Czech film, she raised eyebrows and drew condemnation around the globe when she appeared nude in one part of the film and simulated an orgasm in another.
Lamarr is seen going skinny-dipping and, still without a stitch on, chasing a runaway horse. The orgasm scene comes later, and, yes, she does smoke a cigarette afterward. "Ecstasy" is considered the first theatrically released movie to feature an actress simulating an orgasm on screen.
Take that, Meg Ryan.
From Wikepedia
we learn that she was born Hedwig Eva Maria Kiesler in Vienna, Austria-Hungary, the only child of assimilated Jewish parents. Her mother, Gertrud (née Lichtwitz), was a pianist and Budapest native who came from the "Jewish haute bourgeoisie", and her father, Lemberg-born Emil Kiesler, was a successful bank director.
In addition to making movies and being the sex symbol of her era, she invented a device for frequency jumping to enable guided torpedoes to avoid jamming. It was rejected by the brass hats during the war, but used later and is also a basis for Bluetooth.
We applaud the life of Hedy Lamarr
and point you to a biography.
FROM THE SUBLIME TO THE RIDICULOUS
From a smart and lovely lady we move on to the idiots in our midst. We are sure that the
Darwin awards
site will pick up on the
drunk Australian who tried to ride a huge crocodile
. From this genius we move on to the Republican party and the understanding of science by its leaders. We present
their twelve most egregious goofs on science
and must admit that President Obama was a bit off base himself in 2008 when discussing autism and the spurious claim that it is related to vaccines. Hilary Clinton did not do any better on that score. In general, we have ranted often about the vast ignorance and irrationality that clouds up public discussion. Perhaps we should be encouraged by
the news from Andy Borowitz
that math and science people are welcome in the Republican party despite their strange beliefs.
KUDOS TO THE CITY COUNCIL OF SANTA MONICA AND THE COURT
Pollyanna is pleased that
the display of nativity scenes that has long stood around Xmas time along the beach park ridge in Santa Monica will vanish.
The rule of the court was that the interest of the city in preventing a divisive event was legitimate. The city tried to be fair and raffled off the slots. Last year an atheist coalition won most of them and put up an anti-religion display. We were there last year and photographed it.
Here's to separation of Church and State.
GLAD ABOUT SCIENCE
We have a few nice discoveries to share with you.
FOSSILS IN BOOKS
We usually think of fossils as associated with rocks.
In fact, a fossil record has been found in medieval woodcuts in Europe.
The holes left by beetles gnawing their way out of the wood show up in the prints and provide information about the distribution of insect species in Europe during the period 1400-1800. Cool indeed.
The 1541 woodcut "De Rijke Man" (The Rich Man) by Cornelius Anthonisz. White circles reveal where furniture beetles gnawed through the wood block before printing.


CREDIT: © Rijksmuseum, Amsterdam.



VAGABOND PLANET
A planet-sized non-stellar object has been found relatively close to Earth
. These objects which do not orbit a star wander around the galaxy and have been known for some time. This one, known to its buddies as CFBDSIR2149, is only about 115 to 160 light-years from Earth. It will be useful to study the object in detail, since investigation of exoplanets is always complicated by the presence of the primary star, the light from which overwhelms everything around it.
SOS CORALS
It has long been known that
trees are capable of warning one another
of insect attacks and other dangers by means of chemical signals. It is interesting to note that
coral reefs in danger of being overwhelmed b
y algae or seaweed send out a call for help to fish which come and feast on the parasites. Nature is indeed wonderful.
The broad-barred goby (Gobiodon histrio), that lives among coral branches will react to a chemical cue released by its sheltering coral if the coral is touched by a brilliant green, toxic seaweed (right). The fish will nip back the encroaching foliage. Credit: Danielle Dixson

What If?
generates an interesting answer to a weird question.
BOOK REVIEW
This week Pollyanna calls your attention to
The Wisdom of Psychopaths
by Kevin Dutton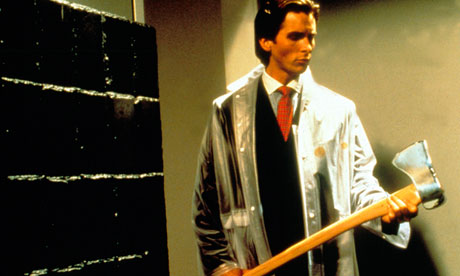 Christian Bale as Patrick Bateman in the 2000 film adaptation of Bret Easton Ellis's novel American Psycho. Photograph: Moviestore Collection/Rex
reviewed in The Guardian/Observer by Tim Adams.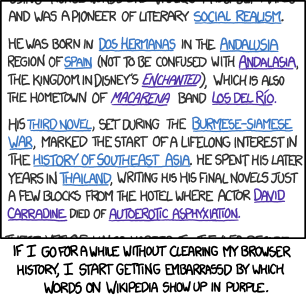 and some sympathy for nerds