Pollyanna hopes that some sanity and responsibility will creep in somehow. She also notes the transition to standard time as the season changes. This has deep historical roots.
For starters, let us refer you to the
Miriam Shlesinger Human Rights action blog
. Nearly two years have gone by without Miriam and we continue to realize what we have lost. She got us into the human rights struggle. Please act on behalf of people who are so much in need of support in their trials and tribulations at the hands of oppressive regimes and corporations.
CHARITY CORNER
CVT has helped more than 27,000 men, women and children rebuild their lives and become healthy, contributing members of their communities.
This week Pollyanna gets to choose a charity. She refers you to the
Center for Victims of Tortur
e. This is a Minnesota(old home country)-based charity that functions with victims from all over the world. It has a high rating from Charity Navigator. You might want to donate to them on their
Day of Give to the Max,
sponsored by GiveMN, coming up next week.
IN MEMORIAM Tom Magliozzi 1937-2014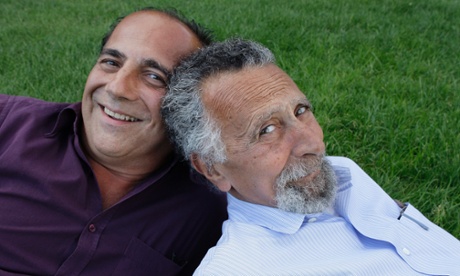 One of the two brothers of the Car Talk show died this week
. Their
radio show on NPR
was a constant source of amusement along
with good advice about cars
and their problems. We listened to them faithfully while living in the US and we continued to follow them on line from Israel. We append an obituary
for Tom from the NYTimes
. The Car Talk link will take you to their Web page and you can also listen to podcasts. To quote the New Yorker
"As Tom might say, he is now in the good hands of "Car Talk"'s staff morticians, Barry L. Plotz and Sven Didigo, as well as the show's Boston funeral director, Hadley Newham."
CAN A WOMAN WALK FREELY IN A MODERN CITY?
That is indeed a question raised by
Hollaback
, a society devoted to safety on city streets. As a promotion, the actress
Shoshana B. Roberts spent 10 hours walking
on the streets of New York. Her YouTube shown here gives you an idea of what it is like for a woman to walk on the street. Lilit Marcus gives it a
Jewish twist in the Forward
--how to deal with catcalls and the like from these oh so pious men walking around with God in their pocket. Over two thousand years ago a Phoenician king boasted that a woman could carry a sack of gold safely across his kingdom.
CHEERS FOR THE JUDGE
An Argentinian judge
has ordered the extradition of 20 former Spanish officials
accused of torturing dissidents during the dictatorship of Francisco Franco, from 1939 to 1975, renewing efforts to pursue cases of human rights abuses beyond the country's borders. The principle of universal jurisdiction applies to these cases. We hope the Spanish government agrees to turn these despicable men over for trial. Pollyanna thinks that the rule of impunity, by which atrocities can be committed with no fear of retribution or punishment must come to an end. It would be nice if it would happen much closer to home.
CONGRATULATIONS TO IM DEFENSORAS
The Iniciativa Mesoamericana de Defensoras de Derechos Humanos (IM-Defensoras, Mesoamerican Initiative for Women Human Rights Defenders)
will receive the Letelier-Moffitt award
in Washington on Tuesday, October 14, 2014. This award, established in 1978 by the Washington-based Institute for Policy Studies (IPS), will be delivered to IM-Defensoras for its work over the last four years in defense of human rights.
IM-Defensoras pioneered the use of a gendered approach in the documentation and reporting of attacks against women human rights defenders in Mesoamerica.
Between 2010 and 2014 it helped improve the safety and welfare of over 100 advocates and their families and facilitated the development of 360 defenders in Mexico, Honduras, Guatemala, El Salvador and Nicaragua, to promote the adoption of appropriate practices in safety and self care.
Since 1978 the Letelier-Moffitt award has served as a yearly acknowledgement of the struggle for rights in the United States and the Americas.
"We will continue working for the full protection of women human rights defenders, for the continuation and advancement of peace, equality and justice in Mexico and Central America":
IM-Defensoras Steering Committee
THANKS TO MALALA
Pollyanna thanks the
Nobel Peace Laureate Malala Yousafzai for donating $50,000
to reconstruction of Gaza schools. This courageous young lady who was shot in Pakistan for advocating education for girls should be a role model for all in the struggle to provide education for girls everywhere. The wanton destruction of schools in Gaza by Israel was no accident. It is part and parcel of the
callous indifference to human suffering
described in a recent report by Amnesty International. It is encouraging that there still are people like Malala around who care and are willing to take risks and do something about terrible things. Pollyanna, Titan and YandA salute you Malala!
THE RANT
Tel Aviv derby disrupted by violence.
Photo by Sharon Bokov
This time it is about violence at sports venues.
The recent riot at the Tel Aviv derby match
between Hapoel and Maccabi is a national disgrace. Soccer can be a lovely game to watch and fun to play, but when it becomes something akin to religion, something is obviously wrong.
The violence did not come out of nowhere
and it was not unprecedented. Certainly something needs to be done and the reaction of authority must be firm and strong.
Watch it yourself.
BOOK REVIEW
Bayerische Staatsgemäldesammlungen/bpk/Art Resource Peter Paul Rubens: The Death of Seneca, 1612–1613
Mary Beard reviews
new books about the Roman philosopher Seneca, one of the pillars of the Stoic school. The subject is fascinating even after two millennia. If the NYRB does not open for you, you can find reviews of the books at
newyorkarts
and at
Dublin Review of Books.
SILLY TIME
What if?
asks:What if everyone who took the SAT guessed on every multiple-choice question? How many perfect scores would there be?
—Rob Balder
As one might expect, the answer is none. It is like the immortal monkey etc. The analysis is interesting.
THE FUTURE LOOMS AT US
When our daughter Hadass was in the eighth grade and freshly back from California, she showed her English teacher and class the usage PED/XING and all were amused. Now Duane has an idea of what awaits us.
Then we have the wisdom of higher management

Of course, Catbert is not always with it: