Pollyanna too has survived the holiday season and is delighted to visit with you. She wishes all her Muslim friends and readers a Happy New Year AH 1436 which began on 1 Muharem or 25 October.
For starters, let us refer you to the
Miriam Shlesinger Human Rights action blog
. Nearly two years have gone by without Miriam and we continue to realize what we have lost. She got us into the human rights struggle. Please act on behalf of people who are so much in need of support in their trials and tribulations at the hands of oppressive regimes and corporations.
CHARITY CORNER
This week Pollyanna gets to choose a charity. The overwhelming calamity in the world now is the Ebola pandemic in West Africa. Last week
Titan ranted and raved
about the incompetence being shown in handling the catastrophe. She endorses every word. She also follows Titan's choice and recommends
MSF
or
Mercy Corps
as the most effective way of helping in this huge crisis.
SALUTE A BRAVE DOCTOR WHO SAVED HER COUNTRY
Nigeria has now been declared Ebola-free. This came about because of the brilliance and courage of
Dr Stella Ameyo Adadevoh who raised a red flag
when attending to a Liberian patient at the First Consultant Hospital in Nigeria's main city, Lagos, in July. She diagnosed Ebola in a Liberian patient Patrick Sawyer and prevented him leaving the hospital despite his protests and the pressure from the Liberian embassy. Eventually he died, but the virus did not hit Nigeria. The sad part of the story is that Dr. Adadevoh herself contracted Ebola from her patient and died.
Many Nigerians are mourning the death of the doctor who treated him
The issue of containing Ebola is acute and the teams on the ground suffer from logistic inadequacies.
Oxfam has called for a military intervention
to stop the spread of the disease.
IN MEMORIAM Christopher Hogwood 1941-2014.
This famous conductor
who is identified strongly with the performance of classical and earlier music on authentic instruments died last month. He was the founder of the Academy of Ancient Music and insisted on performance of works as they sounded when composed.
We quote from an obituary by his colleague :
"The death of Christopher Hogwood has deprived the world of the most successful exponent of early music there has ever been, or is ever likely to be. It has also reduced by one the
quartet of conductors who have been called 'the Class of '73', a term coined by Nick Wilson in a recent study of the early-music revolution of the 1970s and 80s. It refers to four groups that were founded in that year that are held to have changed the face of modern concert-giving: Hogwood and the Academy of Ancient Music;Trevor Pinnock and his English Concert; Andrew Parrott's Taverner Choir; and my own Tallis Scholars. Of these it was Hogwood who had the most immediate impact and commercial success. It is also fair to say that his recordings are the most numerous, but least played, of all the Class."
He founded the AAM in 1973 and it quickly became one of the most popular and influential organizations in the "authentic performance" movement. (Hogwood preferred the less confrontational term "historically informed performance" to "authentic.") We link you to an
obituary in the Guardian
and also give you a sample of his performance.
CONGRATULATIONS TO RICHARD FLANAGAN,
who on 14 October was announced as the
winner of the 2014 Man Booker Prize for Fiction
for
The Narrow Road to the Deep North
, published by Chatto & Windus. Pollyanna extends felicitations.
A review of the book
is given in the Guardian.
SALUTE A MEDICAL TEAM THAT DID WONDERS
Pollyanna salutes and admires the medical team that performed a near miracle. A paralyzed man has been enabled to walk after a pioneering therapy that involved transplanting cells from his nasal cavity into his spinal cord. Darek Fidyka, who was paralysed from the chest down in a knife attack in 2010, can now walk using a frame. It is hoped that independent walking will eventually be restored.The treatment, a world first, was carried out by surgeons in Poland in collaboration with scientists in London.
Read more and watch the video.
RANTS AND RAVES
ON INEQUALITY
In El Salvador, women and girls are expected to prioritize being a mother or wife above everything else. © Amnesty International
There is inequality everywhere, but Pollyanna wants to point out the glaring inequality that affects half of humanity and marginalizes and crushes women and girls. In honor of World Blog Day last week,
Amnesty International put out a special blog
to protest the treatment of women in general and in El Salvador in particular. There a woman goes to prison for having a normal miscarriage since she is accused of an abortion, which is totally illegal, with no exceptions for rape or incest.
ON LIBERAL DEMOCRACY
Photo of Isaiah Berlin by Mats Lund,
taken 3 February 1997
A recent New York Review of Books contained two articles that give rise to thought. One was a valedictory,
a message to our century
, from
Isaiah Berlin
on the occasion of his receiving an honorary doctorate from the University of Toronto, just 20 years ago. He pushes his long-held view of the dangers of any ideology that tells people that it provides the answer to the world's ills and the implementation of it justifies all means. His examples ranging from the French Revolution to Lenin and others are most convincing. Despite the evils of the 20th century, he believed the future to be bright and that liberal democracy would find its way even to China-
"Great tyrannies are in ruins, or will be—even in China the day is not too distant."
Of course this was expressed in the wave of optimism that followed the collapse of the Soviet Union.
In the same issue there is an article
China Strikes Back
!
by Orville Schell that shows how Berlin and countless others were wrong. China wants no part of liberal democracy, human rights or any other component of the value system of the West. The collapse of the Soviet Union generated fear amongst the Chinese leadership. By the time Xi Jinping became president and Party secretary in 2013, a virtual
coup de grâce
had been delivered to both Western and Chinese hopes for structural political reform. The Party's new message was, in effect:
"Because China emphatically rejects all Western forms of democratic governance as unworkable, Americans should forget their missionary-like dreams of bringing elections, human rights, and democracy to China. What you see now is what you're going to get! Changes are not wanted."
We recall being told by a Chinese ambassador to Israel that people do not want democracy. Instead they want a strong leader who will relieve them of care and worry and take care of things for them. In the past Pollyanna and Titan have blogged about liberal democracy and its foes. In Israel, there are many such enemies and MK Ayelet Shaked is one of the most ferocious. In the wake of a High Court decision that the incarceration of asylum seekers is unconstitutional, she has initiated a bill that would enable the Knesset to overule the Court.
As Haaretz points out
in an editorial, this is a fatal blow aimed at human rights and democracy. Haaretz attributes to Ms Shaked a lack of understanding of how democracy works. Pollyanna is less charitable and thinks that she understands it well and opposes it.
In the meantime, the Milky revolution seems to have subsided (vid.
Titan last week
) and Air Berlin has come out with a burst of billboard ads in Israel. Pollyanna wonders what the connection might be. The public certainly has shown itself impotent in dealing with the way it is abused by the government. The people who are most vulnerable, the poor and marginal, are the most loyal supporters of the right wing corrupt government that crushes them. It even happens in Id.
THE PEEPING RABBI
Our Orthodox brothers have struck out again. Rabbi Barry Freundel in Washington, D.C.
videotaped women in the Mikveh (ritual bath) of his Orthodox synagogue.
We are not surprised. In Israel, the Rabbi of the city of Holon told students that cheating and plagiarism are legitimate, sexual abuse has been covered up, you name it. Ramban aka Nachmanides ((1194 – 1270), a leading medieval Jewish scholar, Catalan Sephardic rabbi, philosopher, physician, kabbalist, and biblical commentator) coined the term
"a scoundrel with Torah permission"
to describe a problematic personality who meets all technical religious requirements while failing to lead a truly spiritual decent life. Indeed rabbis are human and have human failings, but standards must be maintained. Pollyanna salutes the
Kesher Israel
Board of Directors for not trying to cover up anything.
POPE LOSES
Apropos religious difficulties, Pollyanna is disappointed that Pope Francis
failed to convince his synod
that gay people are human and should not be excluded. It appears that the attitudes of the likes of
Pat Robertson still prevail in religious circles
.
TIDBITS FROM SCIENCE
ON CLIMATE CHANGE AND DISEASE
Deforestation in West Africa, here shown in Liberia, is believed to be contributing to the spread of Ebola.
Photo by AFP
Ruth Shuster, writing in Haaretz,
presents a somber picture
of how climate change enhances the spread of deadly diseases. It boils down to the irresponsibility of the human interaction with nature. The struggle to mitigate the effects of human activity on the environment is complicated by the powerful economic bodies that have an interest in denying climate change and its anthropomorphic source for the sake of large short-term profits. People need to stand up to this and push politicians to do the right thing. It is neither easy nor simple.
A SEA GONE DRY
In the 1960s, the Soviet Union undertook a major water diversion project on the arid plains of Kazakhstan, Uzbekistan, and Turkmenistan.
A prime example of human abuse of nature
may be seen in the drying up of the Aral Sea. Excessive use of the water of its feeding rivers, in particular, the Amu Darya and and the Syr Darya, for irrigation by the Soviet Government, coupled with a decrease in rainfall has led to the catastrophe shown here. Pollyanna is most sad about this misuse of resources of nature.
SOMETHING STRANGE AT MIMAS
Saturn's moon Mimas as observed by NASA's Cassini mission. The moon's prominent Herschel crater gives the tiny world the appearance of the Death Star, the science fiction superweapon from the Star Wars movies.
Mimas has always been regarded as one of the less interesting of the satellites of Saturn. Now it appears that it has a wobble in its orbit which is really unexpected. There are proposed explanations for the phenomenon.
Read more
and if you are really interested and have access, the work is described in
Science
.
SILLY TIME
There is no new What IF? this week, but Pollyanna with the aid of Randall can show you what happens when you are not careful with small objects.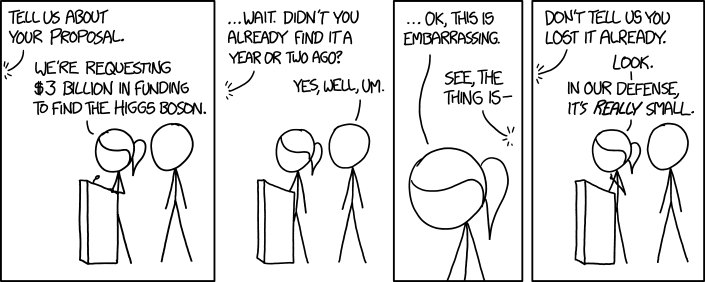 SHOPPING CAN BE DANGEROUS
BUSINESS ETHICS IN THE HI-TECH WORLD