Pollyanna is back and shares with all the memory of what happened 13 years ago.
She also welcomes the visitor from space who flew by this week. A small asteroid, designated 2014 RC, safely passed very close to the Earth on Sunday, 7 September 2014. It was not related to the explosion reported from Nicaragua.
This small asteroid was initially discovered on the night of 31 August by the Catalina Sky Survey near Tucson AZ, and independently detected the next night by the Pan-STARRS 1 telescope, located on the summit of Haleakala on Maui, Hawaii. Both reported their observations to the Minor Planet Center in Cambridge, MA. Additional follow-up observations by the Catalina Sky Survey and the University of Hawaii 88-inch on Mauna Kea confirmed the orbit of 2014 RC. From its brightness, astronomers estimate that the asteroid is about 20 meters (60 feet) in size.
Read more here
. We should be aware of these things and humanity must be ready to deal with any object that threatens to collide with Earth. Much more than dinosaurs is at stake now.
For starters, let us refer you to the
Miriam Shlesinger Human Rights action blog
. Over a year has gone by without Miriam and we continue to realize what we have lost. She got us into the human rights struggle. Please act on behalf of people who are so much in need of support in their trials and tribulations at the hands of oppressive regimes and corporations.
CHARITY CORNER
This week Pollyanna is referring you to
Physicians for Human Rights
. This is an organization of Israeli doctors (including our Yosefa) who both go out to Palestinian villages on weekends to provide medical services and maintain a free clinic for refugees and asylum seekers in Yaffo. They do wonderful work and need all the support they can get. Please put your hand into your pocket or onto the mouse and donate via their site.
CHEERS FOR CVS
The US drug store giant chain announced early this year that it would terminate sales of tobacco products in all its stores on October 1.
It now has done so a month earlier.
Pollyanna applauds and hopes that other pharmacy chains will follow suit.
CVS employees removed tobacco products from stores ahead of schedule (CVS Health photo)
THE RANTS
As usual,
Pollyanna is livid instead of "glad" about spousal abuse.
The case that came up just now of Ray Rice, the NFL football player, who was seen on camera beating his fiance (now his wife) Janay raised a major outcry. The team fired him, the league suspended him and the courts sent him to counseling. We have been treated to much pious clucking of tongues by sports analysts at half time. The hash tags #whyshestayed and #whyshe left have gone viral. Pollyanna would like to share an essay on domestic violence written 20 years later. Janay Palmer is not ready to share her story yet, and she may never be. But she has inspired other women to do so,
like this writer,
who suffered at the hands of an ex 20 years ago. Pollyanna also recommends looking at the tweets at these hash tags. In particular,
she is outraged that people are blaming the victim
and Janay Palmer seems to need to apologize for being abused.
Pollyanna is also outraged at
the rape and murder of octogenarian nun
s in Burundi. Their names are Lucia Pulici, aged 75, Olga Raschietti, aged 82, and Bernadetta Boggian, aged 79. They had all been serving for decades in Africa and the crime is horrendous. The police say they have two suspects in custody.
Olga Raschietti had spent many years working in central Africa
Nursing mothers
certainly have a right to nurse their babies wherever and whenever required. This
Mom has an answer
for those who object to the sight of an infant at a breast.
Cheers lady!
SCIENCE
Pollyanna is pleased to pass on the news that a
previously unknown life form
has been found that does not fit into any existing phylum so that a new genus had to be created. The organisms, which are mushroom shaped, are multicellular and nonsymmetrical. They live 400 to 1000 meters below the surface of the ocean. The new genus will be called Dendrogramma. The organisms will be called
D. enigmatica
and
D. discoides
. For more details, see
PLOS.
Figure 1. Dendrogramma gen. nov., all 15 paratypes of D. enigmatica and (with *) D. discoides.
Meet the largest land animal ever,
Dreadnoughtus scrani,
discovered in fossils in Patagonia. This giant juvenile herbivore weighed in at 65 tons and was 26 meters in length. Slink away little T. Rex.
NOT QUITE TELEPATHY
An international group of researchers is reporting that they have successfully transmitted information in a
brain-to-brain link between two humans
. It is done via a computer link between brain scanning devices. It could have great applications in many areas including communication with comatose patients etc.
Information successfully sent from one person's brain to another's over thousands of miles, researchers report. Feat is first non-invasive brain-to-brain link, they say.


(Photo : PLOS ONE
BOOK REVIEW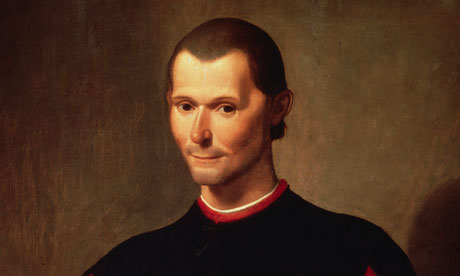 Desperate remedies … Niccolò Machiavelli, painted by Santi di Tito. Photograph: Archivo Iconografico, S.A./CORBIS
We have not referred you to a book review for a while. We offer you
The Garments of Court and Palace: Machiavelli and the world that he made
by Philip Bobbitt.
It is reviewed in the New York Review of Books
by Quentin Skinner and in the
Guardian by Colin Burrow
.
Niccolo Machiavelli (1469-1527)
has been known through the centuries as the author of The Prince (1532). The main theme of this short book is that all means may be resorted to for the establishment and preservation of authority -- the end justifies the means -- and that the worst and most treacherous acts of the ruler are justified by the wickedness and treachery of the governed. Bobbitt provides a deep analysis of the political thought of Machiavelli, who was driven from power in 1512 when the Florentine republic was demolished by the Medicis. You may have difficulty in opening the NYRB review, but the Guardian version is available.
What If?
In the absence of a new WhatIf? this week, we recycle an old one from 2012. How much of the Earth's currently-existing water has ever been turned into a soft drink at some point in its history?
Brian Roelofs
Not much.
Our friends with back problems should know how much Big Pharma loves them.
The good people of Id have it right about polls: