Pollyanna and Titan have skipped a few weeks because of the illness (or malingering) of their imaginary playmates YandA. Now that things are back to what passes around here for normal, Pollyanna is taking her turn. She starts with best wishes for a Merry Christmas to all her Christian readers. She, Titan and YandA wish you all a happy holiday and for the religious amongst you a renewal of your faith and joy in your beliefs and practice. For the record, the picture above does not represent the
historical St. Nicholas
who was a fourth century Greek bishop in what is now Turkey to anyone except
Kelly Megyn
. She is a Fox broadcaster who announced to the world that Santa Claus and Jesus were both white. Lovely. She owes a big apology.
For starters, let us refer you to the
Miriam Shlesinger Human Rights action blog.
As the weeks and months go by without Miriam, we continue to realize what we have lost. She got us into the human rights struggle. Please act on behalf of people who are so much in need of support in their trials and tribulations at the hands of oppressive regimes and corporations.
CHARITY CORNER
This week it is Pollyanna's turn to promote a charity. Her choice is again the
Mercy Corp
s who are doing important work in the Philippines in the wake of the tornado along with other activities around the globe. Pollyanna and Titan have signed on to become Partners in Mercy by making a recurring monthly donation and encourage you to do the same.
This touching photo is of a girl living in an evacuation center a few days after Typhoon Haiyan raked the Philippines. The stuffed animal she's hugging is clearly providing much needed comfort. Photo:

Cassandra Nelson/Mercy Corps
IN MEMORIAM NELSON MANDELA 1918-2013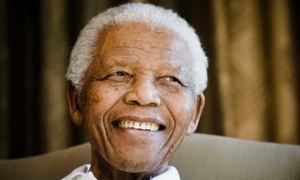 The past few weeks have been marked everywhere by the death and memorial ceremonies for the late Nelson Mandela. For us and all advocates of human rights he was an icon. He spent 27 years in prison for his beliefs. Much has been written in the past few weeks and there is not much that we could add. We refer you to a
collection of news, comments and tributes
amassed by the Guardian
.
We also would like to call your attention to the appreciation by
Thomas Friedman
in the NYTimes. He was brought to his final rest in his home village in a manner
befitting a Xhosa chief
. Rest in Peace and may your legacy inspire us. We quote his favorite poem.
Invictus
Out of the night that covers me, Black as the Pit from pole to pole, I thank whatever gods may be For my
unconquerable soul.
In the fell clutch of circumstance I have not winced nor cried aloud. Under the bludgeonings of chance
My head is bloody, but unbowed.
Beyond this place of wrath and tears Looms but the Horror of the shade, And yet the menace of the years
Finds, and shall find, me unafraid.
It matters not how strait the gate, How charged with punishments the scroll. I am the master of my fate:
I am the captain of my soul.
William Ernest Henley
(1849-2003)
IN MEMORIAM ANDRE SCHIFFRIN 1935-2013
s
Andre' Schiffrin, a publishing force for 50 years, whose passion for editorial independence produced shelves of serious books, a titanic collision with a conglomerate that forced him out to stem losses, and a late-in-life comeback as a nonprofit publisher, died in Paris on December 1. He was 78. While many of you may never have heard of him, we all owe him a debt for his work at Random House in the Pantheon Books section. He brought us the work of Jean-Paul Sartre, Gu"nter Grass, Studs Terkel, Michel Foucault, Simone de Beauvoir, Noam Chomsky, Julio Corta'zar, Marguerite Duras, Roy Medvedev, Gunnar Myrdal, George Kennan, Anita Brookner, R. D. Laing and many others. Obituaries can be found in both
the NYTimes
and the
Guardian.
When he was fired for the sake of the bottom line there was outrage throughout the literary world. He came back to fight again. Within two years, he had raised enough money to launch the
New Press
, a not-for-profit "publisher in the public interest". It was an immediate success; many of his authors, including Terkel, left Pantheon to join him, and an ambitious intern programme aimed at attracting candidates from minority ethnic backgrounds into the book business has benefited the wider world of publishing.
IN MEMORIAM Peter O'Toole 1932-2013
The actor
Peter O'Toole died this week.
We saw him in many films and were always impressed by his talent even if the films were not always worthy of him. We saw him very recently in
Man of La Mancha
in which he played both Cervantes and his creation Don Quixote. His most famous film was
Lawrence of Arabia
(1962) but we remember him best as Henry II, a role he played twice, once in
Beckett
and again in
The Lion in Winter.
O'Toole was nominated eight times for the Oscar, but never won it. He was given an honorary Oscar for his life work in 2000.He loved Shakespeare and appeared on stage as Macbeth and Hamlet among other roles. He loved the sonnets especially and in the last film for which he was nominated for an Oscar,
Venus
, he recited
Sonnet 18, 'Shall I compare thee to a summer's day?'
There is a
detailed obituary in the Guardian.
Rest in Peace, you made many people happy.
IN MEMORIAM Joan Fontaine 1917-2013.
The actress whose career spanned a long era from her first major role in
Rebecca
in 1939 to her final roles in TV movies,( her last appearance was in Good King Wenceslas, on the Family Channel, in 1994
) died on December 16,
aged 96, at her home in Carmel CA. She won an Oscar in 1942 for
Suspicion,
a Hitchcock film, and had two other nominations. Sadly, she and her sister Olivia de Havilland were estranged throughout their adult lives. Detailed obituaries are in the
NYTimes
and the
Guardian.
NOW CELEBRATE A LIFE
We note the centenary of the birth of
Benjamin Britten 1
913-1976. He was indeed one of the great musicians of the last century. It is odd and somewhat amusing that the life and work of this wonderful composer, who was openly gay, is now being celebrated
in a festival in Russia
, possibly the most homophobic country in Europe. Even his opera, Death in Venice, based on the Mann novel which has a clear homosexual theme, is being performed in Moscow. We give you his Young Person's Guide to the Orchestra.
THE RANT
As you know Pollyanna can rant as loudly as Titan about matters involving the abuse of women and girls. She is foaming at the mouth over the proposal brought before a parliamentary committee in Afghanistan. Twelve years after the fall of the Taliban, Afghanistan's government is considering bringing back a gruesome spectacle that has become synonymous with Islamist cruelty:
the use of public stoning
as a punishment for sex outside marriage. Pollyanna asks you to join the worldwide protest against the reintroduction of stoning along with amputation and flogging. It is also linked above in the Miriam Shlesinger blog.
A CALL FOR DONATIONS
Rasta lost her hand during an attack by members of her village © Vlad Sokhin
Usually Pollyanna and Titan do not solicit donations. Pollyanna is making an exception here for a campaign by Amnesty Australia on behalf of the women in Papua New Guinea who are being attacked and abused as "witches." The horror involved is difficult to describe or to imagine.
Please support this campaign.
A GENTLE SLAP ON THE WRIST: GUYS STICK TOGETHER
At a totally different level Pollyanna chides the Israeli military justice system for its
lenient treatment
of an officer who sexually harassed three women soldiers under his command. He got off with community service and while he was demoted one rank and cashiered out of the army, it is quite probable that he will enjoy a pension. He certainly should have gone to jail, but the macho culture continues to rule. The concept that "boys will be boys" and misplaced solidarity have a pernicious effect. The fact that other armies, including that of the USA, have the same problem is of scant comfort. We have to meet our own standards.
BREAST CANCER AND PRUDERY
Rina Castelnuovo for The New York Times
Breast cancer is a scourge that affects as many as one in nine women. We have had our own experience of it. The malignancy can be treated and cured if caught early enough. We regard, therefore, any effort to raise awareness of the disease and to encourage women to undergo screening as a positive and worthy endeavor.. We applaud the young Israeli woman who allowed a picture of her breast with its incision scar
to be published in the NYTimes.
The fact that part of her nipple was shown actually caused controversy and offense. Pollyanna says
come off it idiots
, there is nothing prurient in the picture and if it caused even one woman to get a mammogram, we say bravo!
TIDBITS FROM SCIENCE
COMET ISON
The brave little comet that dared to approach within 1.2 million km of the solar surface is no more. . It was one of the most observed comets in history and was tracked by thousands of telescopes and spacecraft. It may have been unrealistic to expect it to have survived such a close perihelion. While the expectations of a spectacular naked eye object lighting up the December sky were not realized, the ISON event cannot be considered a failure. Much data were garnered and a huge number of people because aware of astronomy and of the wondrous phenomena that go on in our solar system and universe.
GEYSERS ON EUROPA
BLUE MOON Hydrogen atoms that could have originated in water molecules shooting up from an ocean buried by ice appear in blue, superposed on a photo of Europa.
Long ago we wrote a paper on plumes of satellites and inferred from Galileo observations that Europa, a Galilean satellite of Jupiter, has an atmosphere. It is exciting to read that there appear to be transient geysers on Europa. Of course, we should wait for further confirmation, but the idea is very exciting to those of us who get excited about what goes on at the moons of the outer planets.



BEAUTY IN SCIENCE
Indeed some of you may wonder why people get excited about geysers on a moon of Jupiter or a little boson named Higgs that gives matter mass. The late Nobel Laureate Subrahmanyan Chandrasekhar gave a lecture on the subject of the beauty in science and showed that it differs not an iota from beauty in art, literature and music. Pollyanna would like to share it with you.
SILLY TIME
What If??

At what point in human history were there too many (English) books to be able to read them all in one lifetime? Gregory Willmot
A difficult question, but Randall does his best. We like his in jokes...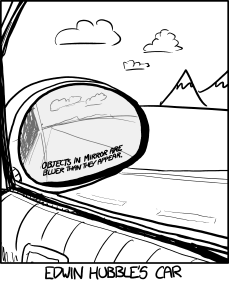 CONSPIRACY EXPOSED
The Onion informs us that a rather slow-witted but persistent conspiracy theorist has discovered the amazing fact that NASA is funded by the Federal government. Wow! Here is the interview:




DEDICATED TO OUR FRIENDS IN NEW JERSEY
ONWARDS TO GLORIOUS HEROIC BATTLE