Pollyanna is happy to greet you again.
She is pleased to bring you all kinds of goodies and a rant as usual.
CHARITY CORNER
Film Director Spike Lee looks on during the game between the New York Knicks and the Boston Celtics during Game five of the Eastern Conference Quarterfinals of the 2013 NBA Playoffs at Madison Square Garden on May 1, 2013 in New York City. (Al Bello/Getty)
Female genital mutilation (FGM)
comprises all procedures that involve partial or total removal of the external female genitalia, or other injury to the female genital organs for non-medical reasons. A few descriptive details from WHO:
Key facts
Female genital mutilation (FGM) includes procedures that intentionally alter or cause injury to the female genital organs for non-medical reasons.
The procedure has no health benefits for girls and women.
Procedures can cause severe bleeding and problems urinating, and later cysts, infections, infertility as well as complications in childbirth increased risk of newborn deaths.
About 140 million girls and women worldwide are currently living with the consequences of FGM.
FGM is mostly carried out on young girls sometime between infancy and age 15.
In Africa an estimated 101 million girls 10 years old and above have undergone FGM.
FGM is a violation of the human rights of girls and women.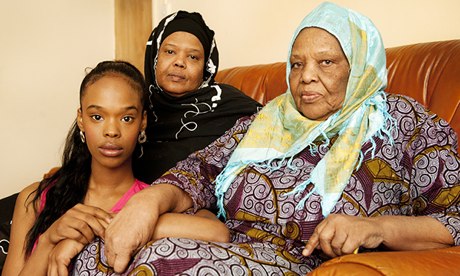 Samira Hashi, her mother Lul Musse and grandmother Faduma Ali. The older women underwent FGM in Somalia but decreed that Samira should not. Photograph: Linda Nylind for the Guardian
Peter Beinart
Photo by Center for American Progress (CC BY-ND 2.0)
THINK ABOUT YOUR STYLE
Here it is in modern English:
Objective considerations of contemporary phenomena compel the conclusion that success or failure in competitive activities exhibits no tendency to be commensurate with innate capacity, but that a considerable element of the unpredictable must invariably be taken into account.
Of course this is a parody, but it makes the point. Pollyanna challenges her Israeli readers to try to render the same verse from the original into modern Hebrew.
שַׁבְתִּי וְרָאֹה תַחַת-הַשֶּׁמֶשׁ, כִּי לֹא לַקַּלִּים הַמֵּרוֹץ וְלֹא לַגִּבּוֹרִים הַמִּלְחָמָה וְגַם לֹא לַחֲכָמִים לֶחֶם וְגַם לֹא לַנְּבֹנִים עֹשֶׁר, וְגַם לֹא לַיֹּדְעִים, חֵן: כִּי-עֵת וָפֶגַע, יִקְרֶה אֶת-כֻּלָּם.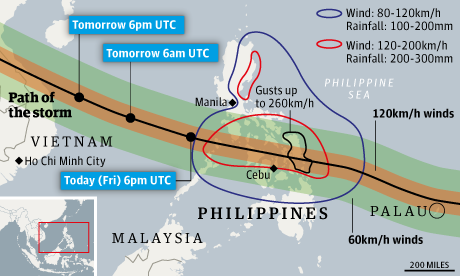 Path of typhoon Haiyan
It has winds of over 240 kph, which makes it the strongest typhoon in all history to hit land At least 100 people are reported dead at the time of this writing. As global warming continues, more and more energy will be available for super storms and we can expect the intensity of such events to continue to increase. Indeed, as a species we have fouled our nest.
ART TREASURE TROVE
SCIENCE ANYONE?
WIMP DETECTOR Photomultiplier tubes such as these should detect subtle flashes of light caused by dark matter particles striking xenon nuclei
The search will go on, but even well-designed experiments can come up with false positives. The results of a very sensitive detector showed that previously reported detections of WIMPS (Weakly Interacting Massive Particles) are apparently spurious. No one doubts the existence of dark matter, but it is proving more difficult to detect than anyone had anticipated
EARTHY PLANET AHOY
THE LONE STAR
NEWS FROM THE SEA
INTO THEIR OWN Two members of a new, and so far unnamed, species of humpback dolphin leap from the blue waters off Australia's northern coast.
The body of an 18-foot male oarfish was found in the waters off Santa Catalina Island in California last month. Five days later, a 14-foot female washed up 50 miles away.
A famous tribute to ingenuity is the story of Peronella, told by Filostrato. Peronella spins wool for a living, and her husband is a stonemason. She is pretty, and soon she has a lover, Giannello. One morning after the husband has gone to work, Peronella and Giannello are enjoying each other's company when suddenly the husband returns. There is a barrel in the house, and Peronella tells Giannello to hide in it. When the husband enters, she begins loudly berating him:
"Scrape here, and here, and over there."
As she bends over, Giannello, whose business with Peronella that morning had been interrupted, lifts her skirt from behind. After the three have finished, simultaneously, Giannello pays the husband the seven ducats and, in a lovely, tart last sentence, gets him to take the barrel to his house.
Great fun was had by almost all.
SILLY TIME
What If? really gets silly this week.
The question: How big of a lawn would you have to have so that when you finished mowing you'd need to start over because the grass has grown? Thanks to Nick Nelson for this challenge to Randall's patience...
TWITTER CORRECTLY DEFINED
This is for us oldies who remember party line telephones, although we never had one at home. People living in the country had to put up with them. For details, ask a grandparent.

CLOSING DOWN SKYPE
We love skype, it connects with our faraway loved ones and does good things. We sometimes, however, would like to close it down and for some reason it is often like canceling an unwanted credit card. Full empathy to Alice.
INFRASTRUCTURE
We love to complain about infrastructure especially after returning from Europe where we get around cities on light rail etc.