Pollyanna is back with you again and would like to share some nice things with you. We are past the holiday season and are back in our routine.
Pollyanna too will be a scientist
For starters, let us refer you to the
Miriam Shlesinger Human Rights action blog.
A year has gone by without Miriam, and we continue to realize what we have lost. She got us into the human rights struggle. Please act on behalf of people who are so much in need of support in their trials and tribulations at the hands of oppressive regimes and corporations.
CHARITY CORNER
This week it is Pollyanna's turn to promote a charity. Her choice is the
Mercy Corps
a most worthy NGO that helps people in disaster areas or who have had traumatic experiences. They work in failing states like Somalia and Zimbabwe, conflict zones like Afghanistan, Congo and Iraq. and countries that have endured natural disasters like Indonesia, Pakistan and Haiti. You are welcome to support their work via their Web site. Pollyanna would like to remind you why she and Titan decided in their get together on Vesta to set up this corner. They feel strongly that too much money in well-intentioned charitable donations goes to unworthy places such as NGO's that do more harm than good (vid.some of the
organizations operating in Haiti
), or corrupt entities such as the Israeli Army that is swimming in money but yet has the chutzpa to ask for donations from naive people who think they are helping Israel.
NOBEL LAUREATES 2013
Pollyanna, Titan and YandA are delighted to congratulate and salute this year's class of Nobel Laureates:
PHYSICS
:
The Nobel Prize in Physics 2013
was awarded jointly to François Englert and Peter W. Higgs
"for the theoretical discovery of a mechanism that contributes to our understanding of the origin of mass of subatomic particles, and which recently was confirmed through the discovery of the predicted fundamental particle, by the ATLAS and CMS experiments at CERN's Large Hadron Collider"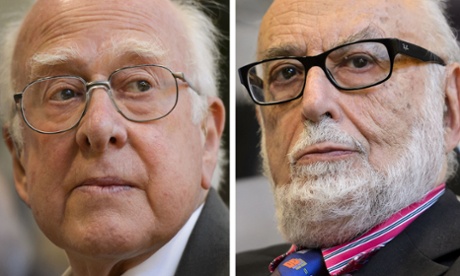 Peter Higgs (left) and Francois Englert won the Nobel Prize in Physics 50 years after theorising the field that gives fundamental particles their mass. Photograph: Getty
PHYSIOLOGY OR MEDICINE:
The Nobel Prize in Physiology or Medicine 2013
was awarded jointly to James E. Rothman, Randy W. Schekman and Thomas C. Südhof
"for their discoveries of machinery regulating vesicle traffic, a major transport system in our cells".
Photo: © Yale University
James E. Rothman
Photo: H. Goren. © HHMI
Randy W. Schekman
Photo: © S. Fisch
Thomas C. Südhof
CHEMISTRY:
The Nobel Prize in Chemistry 2013
was awarded jointly to Martin Karplus, Michael Levitt and Arieh Warshel
"for the development of multiscale models for complex chemical systems".
© Nobel Media AB
Martin Karplus
Photo: Keilana via Wikimedia Commons
Michael Levitt
Photo: Wikimedia Commons
Arieh Warshel
At the risk of appearing provincial, we note that some of them have connections to Israel and to Israeli scientific institutions.
LITERATURE:
The Nobel Prize in Literature 2013
was awarded to Alice Munro
"master of the contemporary short story".
Photo: © shapton 09
Alice Munro
Peace
The Norwegian Nobel Committee has decided that the Nobel Peace Prize for 2013 is to be awarded to the
Organization for the Prohibition of Chemical Weapons
(OPCW) for its extensive efforts to eliminate chemical weapons
.
We also tip our hats to the young Pakistani advocate of education for girls for winning the Sakharov award. European lawmakers awarded their top human rights prize Thursday to Pakistani schoolgirl
Malala Yousafzai,
who last year survived a Taliban assassination attempt because of her outspoken support for girls' education. CHEERS FOR THE GOOD MUSLIM PEOPLE OF PESHAWAR
In the wake of the dastardly attack on a church in Peshawar by Taliban thugs, hundreds of Muslim people
formed a human chain
around the church during Mass this last Sunday. Pollyanna and her cohorts say God (whichever if any you chose) bless you wonderful human beings. Their action helps to restore our faith in humanity
.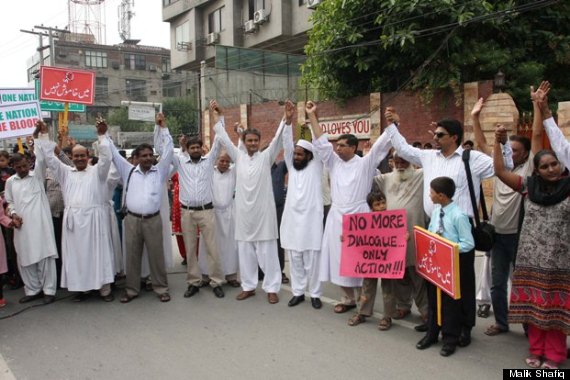 NONETHELESS WE NEED A RANT
Joseph Ow for The New York Times
As usual, Pollyanna takes her turn ranting about bad things that affect women and girls. Today she is calling your attention to a problem that concerns highly educated women in First World industrialized countries, in particular, the United States. She points at the question raised in
an important NYTimes article
by Eileen Pollack, in which she asks why there still are so few women in science. Pollyanna recommends the article to you consideration. There is much food for thought there.
OFF FOR A SWIM ON MARS?
Cheers for Curiosity and her support team for
finding water on Mar
s. For details, if you have access, see the
paper in Science.
JUNO HI
The Juno spacecraft en route to a pole-to-pole orbit around Jupiter
whizzed past Earth
on Wednesday for a gravity boost to the speed it needs to move the probe onward to the largest planet in our solar system. The spacecraft
went into a precautionary safe mode
shortly after completing the speed-boosting flyby of Earth. While Juno's handlers are still trying to figure out what went wrong and how to fix it, they are hopeful that the problem won't threaten the $1.1 billion mission.
"We believe we are on track as planned to Jupiter," Juno project manager Rick Nybakken, of NASA's Jet Propulsion Laboratory in Pasadena, Calif., told the Associated Press. He described his level of concern as "moderate."
The Juno mission launched in August 2011 and is slated to arrive at the Jovian system in July 2016. The probe is so heavy — about 8,000 pounds (3,267 kilograms) — that its Atlas 5 rocket couldn't send it all the way by itself, so mission planners devised the Earth flyby to finish the job. The path looks like this:
The flyby, which was highlighted by a close approach that brought Juno within just 347 miles (558 kilometers) of Earth at 3:21 p.m. EDT (1921 GMT), was designed to boost the probe's speed from 78,000 mph (126,000 km/h) to 87,000 mph (140,000 km/h), mission officials said.
Once Juno enters orbit around Jupiter, it will study the gas giant's atmosphere, gravitational field and magnetic field with nine science instruments over the course of a full Earth year. Scientists hope the probe's observations will reveal insights about Jupiter's formation, structure and composition, including whether or not the planet possesses a solid core.
Pollyanna and her crew sincerely hope that Juno will survive the glitch, whatever it was. Our experiment on Cassini around Saturn went off last year because of electronic failure. We also would like to mention that a few decades back we took part in a workshop at UCLA organized by our dear colleague
Fran Bagenal
to make up a wish list for Juno and to fantasize that the mission might someday be real. We wish all the best to Scott Bolton our friend and colleague, who is the project scientist and to the entire Juno team.
HOME SWEET HOME
SMART CITIES IN ISRAE
L
Pollyanna strongly approves of the idea of smart cities that conserve energy, water and other resources. A new wave of urban infrastructure technology, making inroads in Israel, will go on display at the water and waste water management
conference next month in Tel Aviv
. Cheers.
RENEWAL IN SOUTH TEL AVIV
The southern parts of Tel Aviv that border on Jaffa have been neglected for far too long. Recently some interest has arisen in renewal of the region and a community center is planned for the old Aliya Market.
We link you to an interview
with the two young architects who won the competition for the design of the community center.
Model of Ha'aliyah Market community center in south Tel Aviv.
Photo by Tsionov Vikton Adar
WOMEN OF THE WALL
Members of the Women of the Wall group take part in their monthly prayer session at the Western Wall in Jerusalem's Old City October 4, 2013.
Photo by Reuters
The women who have been struggling for years to break the Orthodox monopoly on prayer at the Western Wall have
agreed to a compromise plan
that involves the establishment of a separate place near the Well for egalitarian prayer. In our humble opinion, the struggle for Jewish pluralism transcends the Wall. We need recognition of alternate forms of Judaism--as you know we belong to the Reform Congregation of Natanya, Kehilath Natan-Ya. We need the same level of government support that is given to the Orthodox. We now have local government salaries for rabbis in rural regions, but not yet for cities. The struggle must go and be more focused.
SILLY TIME
What If asks
If wind speed reached 500 mph(800 kph) would it pick up a human being
?
The asker is seven years old. The answer is interesting.
Our hearts go out to our friends and family in the US who are living without a government. Andy Borowitz informs us that now the
Republicans are closing down the frontal cortex!
WE LOVE THE NFL
Yes, we waste our precious time sitting in front of a TV screen watching a bunch of millionaires bashing each other to pieces in order to make trillionaires of their billionaire bosses. We admit this in shame, but go on with our depravity. We are pleased to be informed that racism in the NFL is on its way out since the
Washington Redskins have been renamed the D.C. Redskins
.
The Onion also tells us that the future of the league is being insured by
collecting sperm from the players.
It reminds us of a reaction in Israel several years ago when the then tennis superstar Pete Sampras offered to come to Israel to train tennis coaches and players. Someone suggested that instead he send his father to stud a new generation of star players. Alas, this is supposed to be a family blog.
Pollyanna has only praise for the Ministry of Transport of Spain who have provided the La Mancha region with the most appropriate traffic signs:
AND THEN THERE WAS CYNTHIA THE SMARTASS...
Exoplanets are really exciting

POLICE INVESTIGATION
In another week we shall read in the Torah a report on two crimes. In one, a man kicked out a woman and child although the woman was his concubine and the child his. In the next chapter, the same miscreant came close to murdering the remaining son.
Here is the transcript of the police interrogation
of the suspect with respect to the planned murder:
CREATIONISM 101 FOR THE BENIGHTED AMONGST US
Here is a link to the lyrics.